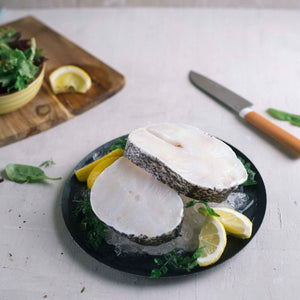 Deep Sea Ice Cod Cutlet / Steak Cut
$44.90

$44.90
Tax included.
---
---
Deep Sea Ice Cod - Steak Cut
Comes Frozen
Comes in two sizes - 500g/1kg
Halal-Certified
Country of Origin: France

Steak Cut may include 1-2 tail cuts
Soft and buttery meat that melts in your mouth
High in Omega-3 fatty acid
Special Remarks:

Small bones might be present, do exercise cautious when feeding the young/ elderly. 
Thawing Instructions:
Transfer product to the chiller and thaw for 6 to 8 hours. For quicker thawing, soak product (with the vacuum bag kept on) in a bowl of cool water for an hour.
How to:
1. Pat Cod dry with a paper towel. Coat both sides of your cod with salt and pepper.

2. Heat 2-3 tablespoon of olive oil in a non-stick pan before placing cod down. Fry the cod steak for 2-3 minutes on each side.
3. After you have flipped the cod over, add a knob of butter to the pan and place dill on top of the cod.
4. Baste the melted butter over the top of the cod repeatedly until it is just cooked through.
5. Squeeze a dash of lemon juice over and serve immediately.